Foundation Steel Officially Certified by the American Institute of Steel Construction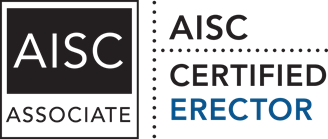 Foundation Steel, LLC is proud to announce that we have been officially certified by the American Institute of Steel Construction (AISC) as a Certified Erector for successfully meeting the quality and safety certification requirements for structural steel erection. A significant milestone in the continuing growth and success of our organization, this certification shows our commitment to providing the highest levels of service in steel erection and conduct in our business practices.
However, AISC certification is not sufficient in itself. The premise behind AISC certification, and the reason we at Foundation Steel pursued it, is not for the designation alone, but to use the systems and requirements within AISC to take us to the next level in quality and customer service. It has always been our goal to be the best of the best and to provide excellent customer service so we are the preferred erector in our marketplace. This is another step in our journey toward continuous improvement and not a pinnacle we have reached on which we will rest. It is another beginning and there are more to come.
About AISC Erector Certification
AISC Certification sets the quality standard for the structural steel industry and is the most recognized national quality certification program for the industry. Certification requires erectors meet a rigorous set of industry standards regarding quality, safety, administration, and training. As an AISC Certified Erector, we are subject to third-party annual audits and site inspections to make sure our Quality Management System is being successfully implemented throughout the company. Our Quality Management program includes internal onsite inspections, material verification, specific welding and bolting procedures, and yearly internal audits of our own practices to verify accuracy, conformance, and efficiency in our systems.
How This Impacts Our Clients & Vendors
The goal of these requirements is to build quality structures from the start by focusing on error prevention rather than error correction. This means clarity to our Vendors in materials and services purchased, a higher level of communication with our Clients and a greater surety that material and services are following project specifications and industry standards. The end result is a better, more efficient, product for the Owner and a higher standard in the construction industry.
About the American Institute of Steel Construction (AISC)
AISC is a non-partisan, not-for-profit technical institute and trade association established in 1921 to serve the structural steel design community and construction industry in the United States. AISC's mission is to make structural steel the material of choice by being the leader in structural-steel-related technical and market-building activities, including: specification and code development, research, education, technical assistance, quality certification, standardization, market development, and advocacy.
If you would like any additional information or should have any questions, please contact Olivia Beebe, our Quality Control Manager at (419) 402-4241.
Posted by Olivia Beebe on 10/30/2018

in

in